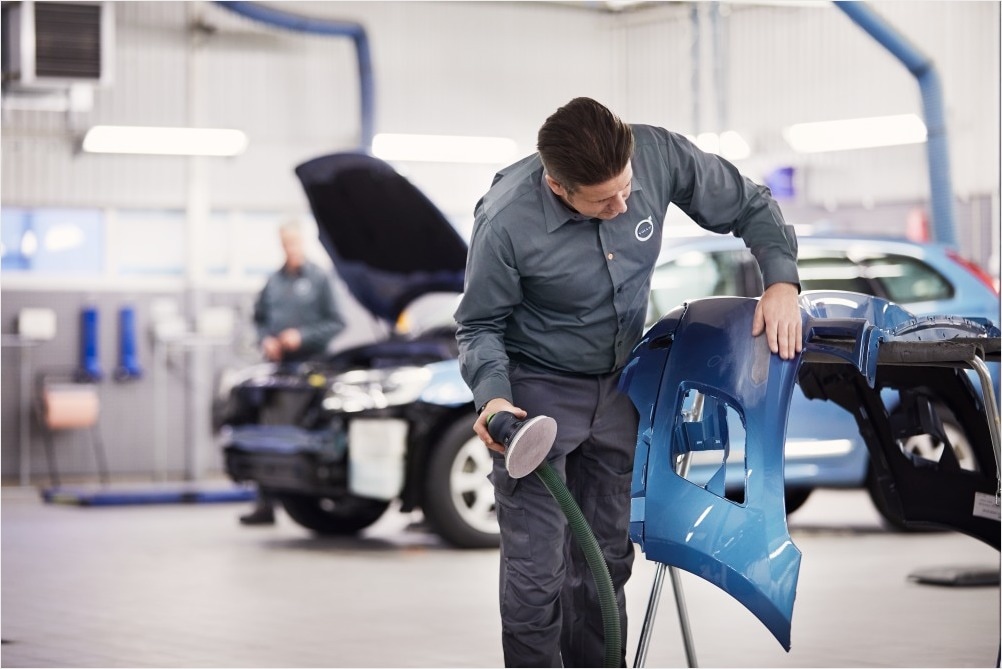 Our Volvo-Certified technicians are ready to help you with bodywork and collision repairs
Volvo's are known for being some of the safest vehicles on the road. For decades they've been built to withstand the force of collisions and in more recent years they've been equipped with advanced safety technologies that help you avoid one in the first place.
Call 504-469-4838 | 2118 Kenner Avenue, Kenner LA | Monday to Friday: 8 AM to 5 PM
Of course, accidents ranging from minor fender benders to major crashes still happen. If you and your Volvo have been in an accident, we want to first note that we're glad you're okay, and we want to extend our services to help you get your Swedish vehicle back on the road!
Why choose our collision center in Kenner
At our Metairie Volvo dealership serving New Orleans we have a service center for general upkeep and repairs, but nine miles away at Rivertown Collision Center they can provide bodywork services. Common repairs their trained team can handle include the following:
Window replacement and repair
Frame and alignment fixes
Painting
Paintless dent removal
Collision repair
Upholstery fixes
If you need to get towed into our location, you can use our 24-hour service or you can utilize Volvo's roadside assistance.
There are a few body shops in the greater New Orleans area and your friends might have even recommended someone that is close to your home in NOLA or Slidell! While we don't want to diminish the work of our fellow repairmen and women, our collision center is staffed by technicians who have gone through rigorous training and certification by Volvo. This training is ongoing, so you can be certain that they are up to date on all of Volvo's standard operating procedures when it comes to collision and body work repair. 
Unlike a general technician, they won't just look at your vehicle and see it as any old automobile. They'll know the intricacies of these models, their tech systems, and things to look out for. Not only that, but they'll ensure that only Certified Volvo Parts and Products are used when repairing your vehicle, helping maintain its integrity. You've put a lot towards your Volvo, so it makes sense for it to receive top-notch service.
We go beyond the physical work
If you've been in an accident before, you know once the shock has worn off that the metaphorical headaches start to roll in. There's calling your insurance company, the other person's company, figuring out how you'll get places while your Volvo is getting worked on, and thoughts on what the bill will look like and how much insurance will cover.
With our auto body repair shop and collision center, we can hold your hand through a lot of the confusing paperwork and assist in making life easier.
We can provide a vehicle estimate for you and we also take insurance estimates. If during the review we notice that our estimates have notable differences, we'll reach out. We also work with most insurance companies from the major names you see on TV to smaller and possibly local firms. This means we can quickly manage claims, handle billing, and provide you with an overall faster experience. You'll probably be surprised by how little leg work you need to do!
While we get your Volvo back in good health, you can use our rental service so you don't need to rely on friends, family, or co-workers to get to work in Covington, errands in Hammond, or events you already had lined up.
We know how stressful accidents are, so we want to take as much of the stress off your plate as possible.
For more information on our Volvo-Certified collision repair facility, you can contact them at 504-469-4838. They're located at 2118 Kenner Avenue in Kenner, Louisianna, close to the Castle Theatre comedy house. Even if you haven't been in an accident, we encourage you to keep this information in your glovebox so in case of an emergency you know your options and how to contact us right away. Find out about other Volvo repairs offered in our New Orleans area car dealership today!